Protecting America's NextGen 911 Networks 
NextGen 911 systems allow Public Safety Answering Point (PSAPs) and public safety agencies to deliver a more responsive service that saves lives — yet these systems come with increased security risks due to their expanding cyber-attack surface.
Hackers and cybercriminals are increasingly targeting emergency response networks throughout the country. According to recent reports, more than 40 attacks in the last three years have targeted 911 dispatch centers. However, these attacks could increase as traditional 911 networks transition to NextGen 911, which enables receipt of video, text, and other data from the public over various computer networks.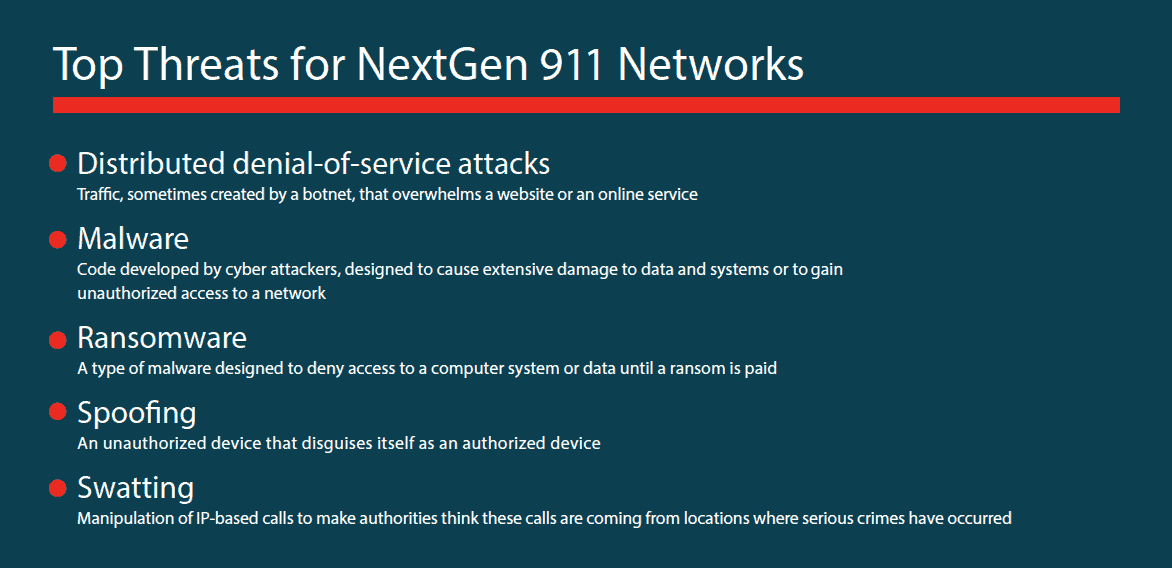 Security risks include denial of service attacks, malware, ransomware, spoofing, and swatting that can overrun the service provider or infrastructure. By securing Message Session Relay Protocol (MSRP) messages, agencies can make their systems more secure and reduce the likelihood that a denial of service, malware, or other cyberattacks occurs. 
Below are the top 4 things you can do to protect against these attacks:
Perform security inspections on MSRP messages before entering in these systems 

Limit the rate of messages as automated solutions can generate signals much faster than a human can type, which can overwhelm NextGen 911 systems and block emergency calls

Implement Denial of Service (DoS) attack prevention software

Implement privileged access management (PAM) software and policies to limit the potential damage from a security breach
Cybersecurity is essential to public safety and ensuring that NextGen 911 system.  To learn more download the infographic.