The shift to hybrid work has made Unified Communications as a Service (UCaaS) one of the fastest-growing technology sectors. In Q1 2021 the UCaaS user base grew by 46% from the first quarter of 2020 according to a recent Synergy Research Group report. 
UCaaS brings together voice and video calls, meetings, and messaging functionalities that a hybrid workforce requires on a platform that can be accessed from the cloud. It effectively delivers the collaboration and communication tools of their office to wherever they work. 
In looking at the UCaaS space, there is one product that is really shaking up the market right now. That is Microsoft Teams. We think there are three reasons for this: 
1. Teams is Now the Second Largest UCaaS App 
2. Identity for Teams is Deeply Integrated with Microsoft 365 
3. Built Like a Modern IT App, not an Aging Telecom System 
1. Teams is Now the Second Largest UCaaS App
Microsoft Teams is the fastest-growing business application in Microsoft's history. The usage of Teams has grown tremendously during the pandemic. As reported by the Business of Apps website, the daily active users for Teams expanded 894% during the first few months of the COVID-19 lockdown. 
Teams has rapidly established itself as the internal collaboration platform of preference for many businesses, becoming the new way to work for more than 145 million daily users. Many large organizations around the world are using Microsoft Teams: 124 organizations have more than 100,000 users of Teams, and nearly 3,000 organizations have over 10,000.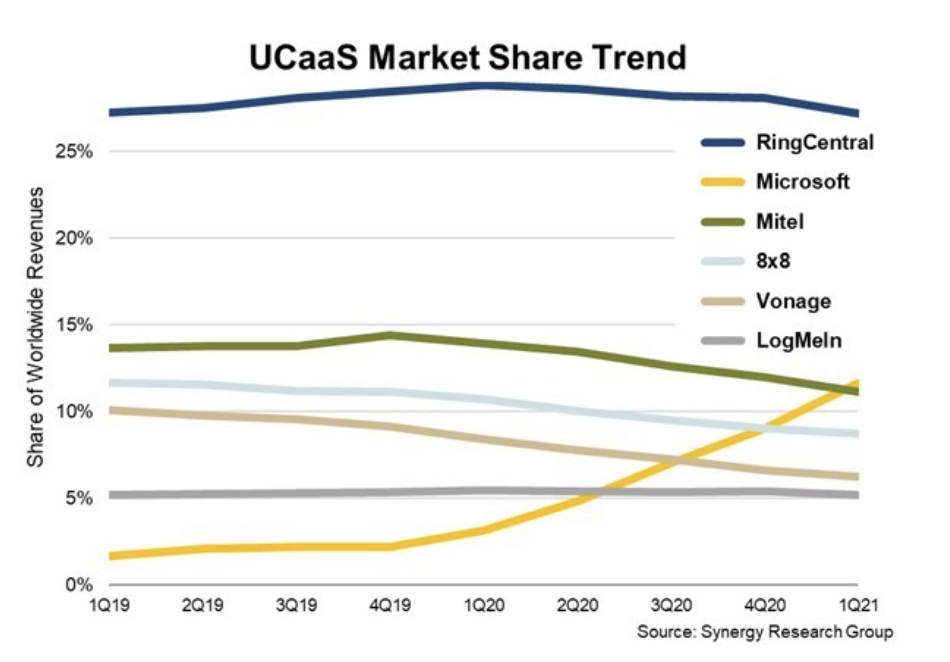 In 2019 Microsoft's Skype for Business had a negligible share of the UCaaS market. By integrating what is now called Teams Phone into Teams, it turns Teams into a powerful UCaaS platform for both internal and external communication. This has vaulted Microsoft's UCaaS market position from outside the top five to number two in just 12 months, easily overtaking many established UCaaS providers. Included as part of the Microsoft 365 subscription, there's no incremental cost for Teams Phone.  
For all these reasons, the growth of Teams Phone currently has no hindrances. 
2. Identity for Teams is Deeply Engrained with 365
All of the Teams capabilities use the common user identity that is a part of Microsoft 365. This seemingly benign capability enables truly powerful unified communications experiences. 
This unified identify simplifies group work with multiple easy-to-use channels of communication from group chats to video seminars. Multiple teams groups can be set up in a click or two, organizing conversations – whether chat, voice, or video – to make them easier to follow, and notifications can be set to pop up on-screen. File sharing is also deeply integrated and the same identity that controls file access rights is also part of the Teams experience. 
Remote meetings that are as effective as being in-person 
PowerPoint Live in Microsoft Teams:

Entirely new PowerPoint presenting experience exclusive to Microsoft Teams that benefits both presenters and attendees. As a presenter, you can lead meetings while having access to your speaker notes, slides, meeting chat, and participants. As attendees, you can view slides at your own pace and use Slide Translate to see the slides in your own language.
3. Built Like a Modern IT App, not an Aging Telecom System
Microsoft Teams is encroaching on the traditional territory of VoIP solution providers like Cisco, Avaya, and others. Microsoft partners are positioning Teams Phone as a way to replace an existing PBX system, or cut costs from more expensive VoIP providers. 
Built more like an IT Application than a telecom system, Teams make sit easy for your IT department and employees to work faster, smarter, and better together. Teams is designed with a simple and intuitive user interface, making it easy to learn for your employees. Administration of Teams is handled in an IT-friendly way that is familiar to IT professionals, who can often find traditional telephony services to be arcane and antiquated. 
This modern, IT-centric approach leads to some direct feature advantages for Teams Phone users. Calling, for instance, is integrated directly into the flow of devices and applications of modern workers. Enabling features such as: 
Easily transfer calls:

Teams Phone now offers the ability for you to transfer a call from your computer to a mobile device or vice versa, without interrupting the call.

 

Apple CarPlay:

Apple CarPlay support for Teams enables users to join calls and meetings using your vehicle's built-in controls or hands-free using Siri.

 

"Better together" device experience:

The "better together" experience means that Teams devices now complement each other, allowing users to answer a call, mute or unmute, and end the call on either the device or the Teams client.

 

Spam call identification:

Teams Phone uses advanced industry techniques to identify likely spam calls, allowing users to avoid unnecessary interruptions to your day by spam calls.

 

Walkie-talkie for desk phones:

Connect quickly with colleagues with a push-to-talk function available on desk phones.

 
This IT centricity does not come at the expense of traditional telephony features and integrations including: 
Operator Connect:

Operator Connect, enables customers to simply connect your operator-based public switched telephone network (PSTN) service into Teams with a managed experience, now extending the ability to enable PSTN calling in Teams to three great options.

 

Teams Phone Calling Plans:

Teams Phone Calling Plans

offer a simple way to deploy calling in Teams without on-premises equipment, available in 33 markets.

 

Bring Your Own Contact Center

:

Teams Phone integrates with your existing contact center solution, and Microsoft's

connected contact center

program provides a new level of validation from rigorous third-party testing to ensure seamless and reliable integration. There are now

8 certif

ied contact center solutions

with an additional 14 in the certification process.

 
For IT departments, Teams Phone eliminates complexity and cost of managing a legacy set of telephony systems and services from their operations. Replacing legacy on-premises phone systems with a UCaaS solution such as Teams Phone has a clear, strategic business advantage, but the transition to cloud-based telephony can be challenging. This is largely because the start point for many organizations is a disparate array of legacy on-premises hardware and a patchwork of carrier relationships across all their sites and countries. 
Need a Partner?
Transitioning your company's communication to Microsoft Teams Phone is relatively straightforward but enlisting a partner that has done it before can assure that you have a smooth and successful transition. Talk to us today to learn how your company can also take advantage of this modernization in communications.