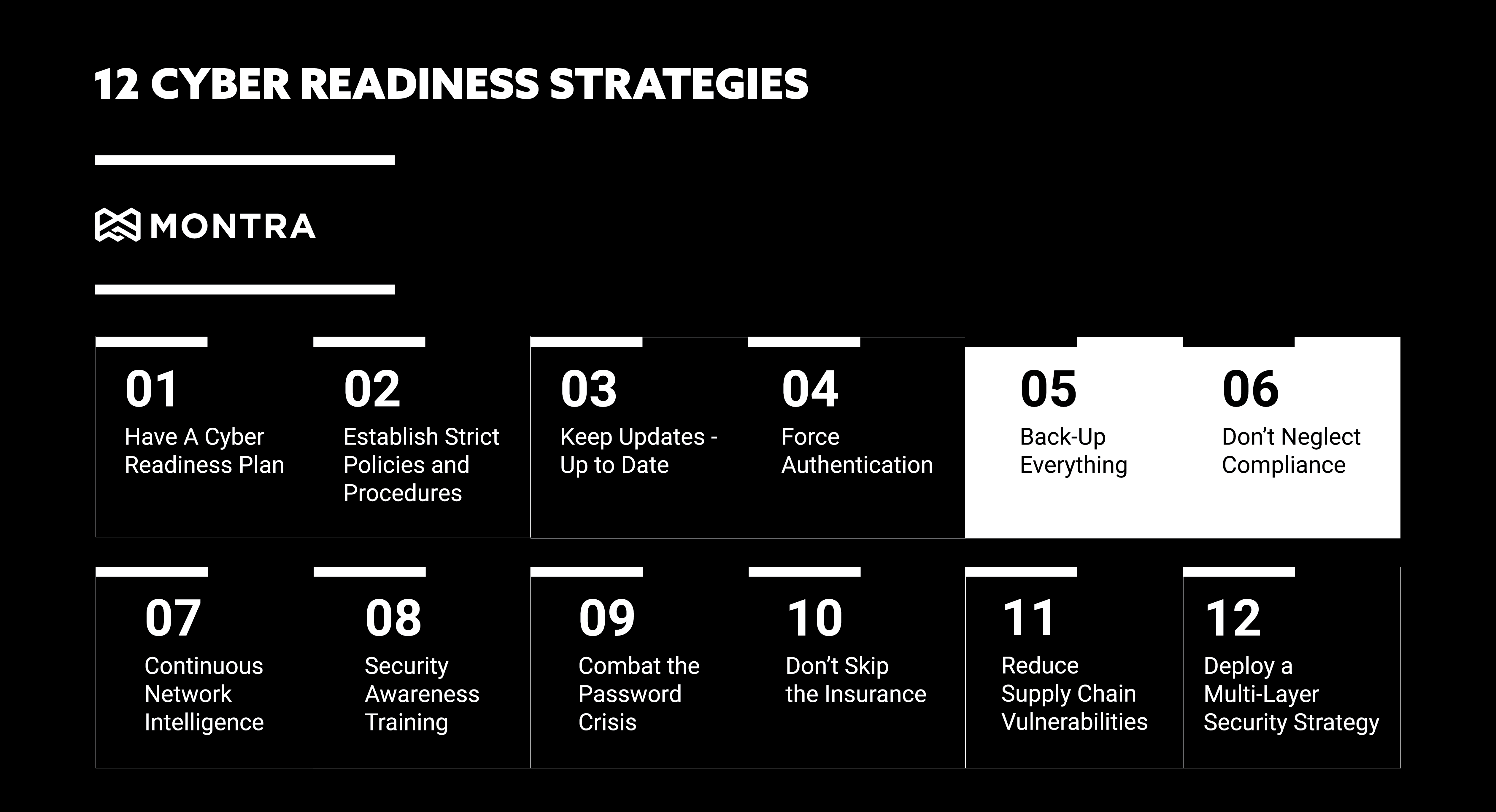 Backup and compliance are two key areas that can make a big difference in your organization's overall cyber-readiness. Having a robust backup process in place is crucial to maintain continuity of operations in the event of an incident. And ensuring that your organization is compliant with relevant cybersecurity regulations can help prevent costly fines and penalties. 
We will take a closer look at why these two areas are so important and offer some practical tips on how to get going. So let's get started! 
5. Back Up Everything Valuable
Backup may not immediately come to mind when thinking about cybersecurity. But when your company eventually experiences a cyber breach – and it is when not if – you will be happy you have backups of all your critical data. Data is the lifeblood of every business. Unfortunately, the risks and threats to the protection, privacy, and usability of that data are endless. 
Why Is Backup Important for Cyber-readiness? 
When it comes to cybersecurity, backup is one of the most important measures you can take. After all, if your data is lost or stolen, it can be difficult – if not impossible – to get it back. 
By implementing a reliable backup process, you can make certain that your data is always safe and secure. And if disaster does strike, you will be able to quickly restore your systems and get back up and running. 
 What Other Benefits Do Backups Provide? 
In addition to the security benefit, there are other benefits to implementing a backup strategy, including: 
Compliance with regulations: Many regulatory frameworks require organizations to maintain a certain level of data security. A reliable backup solution can help you meet these requirements.

 

Minimized downtime: If your systems are lost or damaged, a backup solution can help you get up and running quickly.

 

Reduced costs: By backing up your data, you can minimize the cost of data loss or corruption.

 
How to Get Started with Backup 
There are a variety of backup solutions available, so it's important to choose one that fits your needs. Here are a few things to keep in mind when selecting a backup solution: 
Choose a solution that is scalable, so it can grow with your organization.

 

Protect your backups with separate login credentials

 

Work with your IT partner to configure the solution and test it thoroughly.

 
6. Don't Neglect Compliance
In addition to backup, compliance is another key factor in cyber-readiness strategy. Compliance can help protect your organization from potential fines and penalties, and it can also help you reduce your risk of a cyber-attack. 
Maintaining cybersecurity compliance is mandatory for many organizations. While navigating and satisfying the obligations can be complicated and stressful, achieving compliance is a critical component of having a cyber-ready business. 
How Is Compliance Important to Cyber-readiness? 
There are cyber compliance regulations that apply to businesses in multiple industries, including the Health Insurance Portability and Accountability Act (HIPAA), the Payment Card Industry Data Security Standard (PCI DSS), and the NIST Cybersecurity Framework (CSF). Security and privacy are integral elements of compliance and privacy frameworks such as the General Data Privacy Regulation (GDPR) and the California Consumer Privacy Act (CCPA) should be considered as part of your compliance journey. 
Cybersecurity Compliance can be a complex and daunting task, but it's important to remember that there are many resources available to help you. Here are a few steps to get started: 
Familiarize yourself with the regulations that apply to your industry

 

Develop a compliance plan that outlines how you will meet the requirements

 

Implement security controls to help you comply with the regulations

 
Train your employees on cyber compliance requirements

 
Conclusion 
Cybersecurity is one of the most important issues businesses face today. Cyber threats are on the rise, and businesses need to take steps to protect themselves. A backup and compliance strategy are two of the twelve components we believe to be essential to making your business cyber-ready. By implementing these solutions, your business can protect its data, ensure compliance with regulations, and mitigate the risk of cyber-attacks. 
Learn More 
Want to learn more about cyber-readiness for your business? Montra can help! Please contact us. We are happy to help you become more effective and keep your IT operation safe and secure.