It's becoming increasingly difficult to keep up with the cyber security threats out there. From ransomware and phishing to malicious insiders and business email compromises, there are many dangers lurking in the digital world that can affect your organization. To stay safe, it's important to have a robust cyber readiness strategy in place. This starts with making sure your employees are aware of the threats and know how to protect themselves, but it also includes implementing technology solutions and procedures that can help you mitigate or prevent attacks. In our prior installment of this series, we touched on Continuous Network Intelligence and Security Awareness Training. Keep reading for strategies #9 and #10; Combating the Password Crisis and Don't Skip Insurance.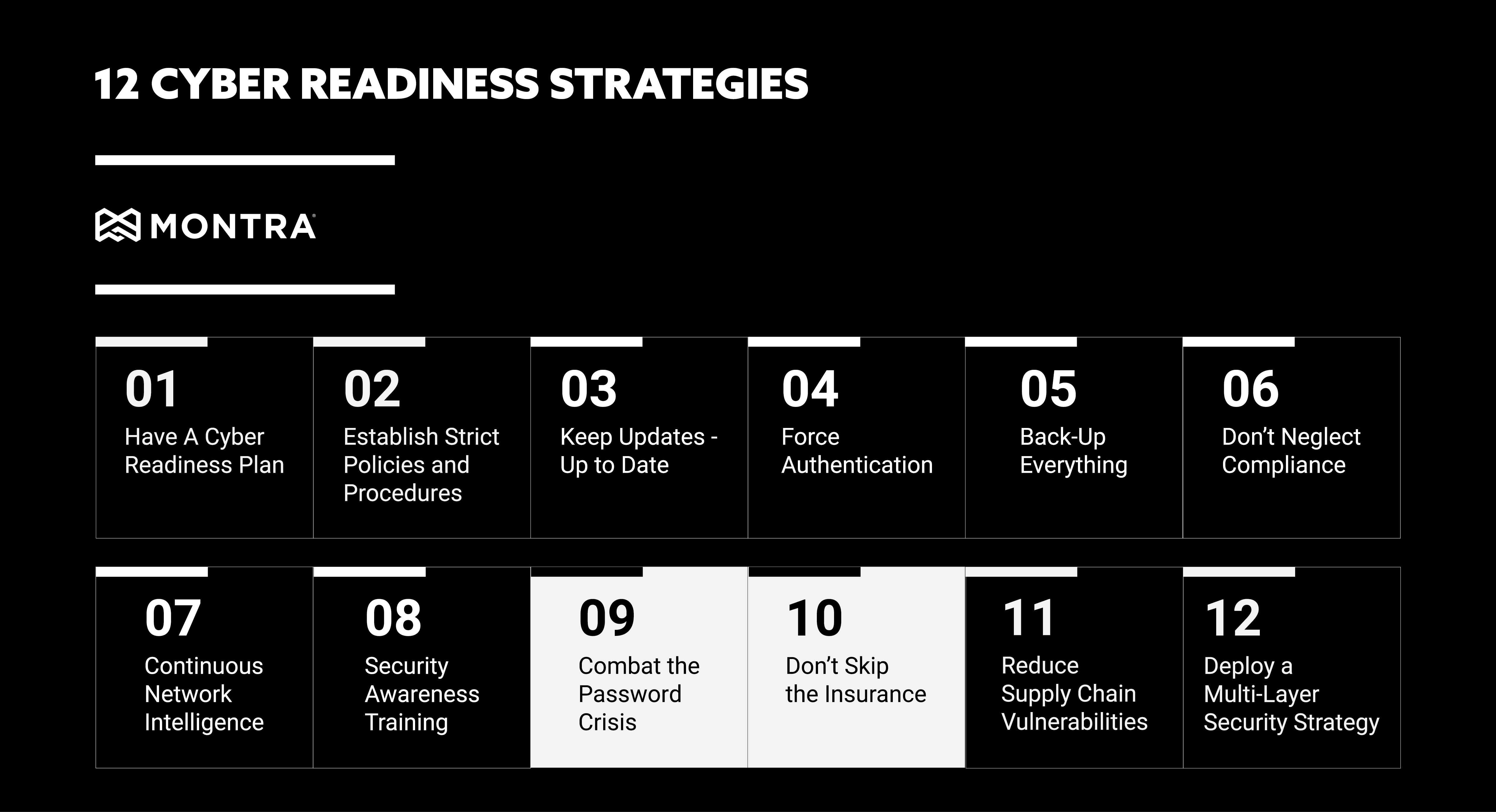 Combat the Password Crisis 
In today's fully connected world, passwords are the first line of defense against cyber-attacks. However, they are also often the softest target for attacks. This is because many people use weak or easily guessed passwords, and they often reuse them across multiple accounts. This makes it easy for hackers to gain access to your systems if they can just crack one password. To combat this, it's important to have strong password policies in place. This includes using a mix of letters, numbers, and special characters, as well as changing passwords regularly. This can be managed by policy on many systems so that users are forced to use strong passwords and unique passwords across systems. For some systems, these controls cannot be set, but alerts can be triggered so that IT staff will get notified when users set their passwords poorly. 
When users are forced to use difficult and unique passwords, it's also critical to use a password manager to help users keep track of all their different login credentials. This will make it easier for your users to comply with the password policies. Some desktop browsers have a basic password manager built-in and third-party software can also be used that provides additional features like secure password sharing within groups. 
Don't Skip the Insurance 
No matter how well you prepare, there's always a chance that your organization could be the victim of a cyber-attack. This is why it's so important to have insurance in place. Cyber insurance can help cover the costs of an attack, including business interruption, data recovery, and legal fees. It can also help with reputational damage control if your organization's name is dragged through the mud. 
Cyber-insurance is a relatively new area of business insurance, so there are a wide variety of cyber insurance carriers with different underwriting policies. It is important to do your research and find one that fits your organization's needs and that is cost-effective. It is also helpful to work with cyber experts, who can help you make some small changes to your IT operation that can have a big impact on your cyber insurance costs. Implementing multi-factor authentication across all your applications and using DNS Security can have a positive impact on your risk scoring with an insurance carrier. 
These are just two more of the many things you can do to improve your cyber readiness strategy. Stay tuned for our next, and final installment, where we'll be covering strategies #11 and #12; Reduce Supply Chain Vulnerabilities and Deploying a Multi-Layer Security Strategy. If you would like more information or have questions about how strong your cyber-readiness is, please contact Montra at sales@montra.io.