Employee onboarding is a crucial process for any organization, and it's especially important for the information technology (IT) department. If done correctly, onboarding can help new employees feel comfortable and confident in their roles and increase retention rates. However, onboarding is often a lengthy and complex process, and without the proper tools and resources, it can be difficult to get new hires up to speed quickly. Fortunately, technology can help streamline the onboarding process and make it more efficient, effective, and enjoyable for everyone involved.
In this post, we'll explore how organizations can leverage technology to improve their IT onboarding process. Whether you're a CIO, COO, CHRO, or IT Director, you'll learn about the latest tools and strategies that can help you onboard new hires more effectively and quickly.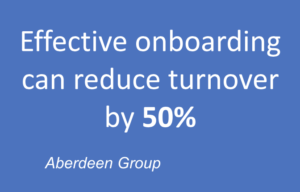 Applying better technology to the IT onboarding can improve the process in four distinct ways:
1.     Reduced Time To Productivity
A study by Aberdeen Group found that an effective onboarding program can improve new hire time-to-productivity by 60% and reduce turnover by 50%. By using technology such as automation software and remote support, companies can speed up the onboarding process and get new employees up to speed faster.
2.     Increased Employee Engagement
A study conducted by Glassdoor found that effective onboarding processes led to higher employee engagement levels, which in turn led to higher productivity and lower turnover rates. By directly connecting HR onboarding software to IT onboarding software, companies can create a faster and more effective onboarding experience for new employees.
3.     Improved Talent Retention
According to the Society of Human Resource Management (SHRM), effective onboarding can improve new hire retention by up to 25%. By using technology to streamline the onboarding process, companies can reduce the risk of new employees feeling overwhelmed or frustrated, which can lead to a higher rate of retention.
4.     Cost Savings
A survey by CareerBuilder found that the average cost of a bad hire is $14,900. By removing manual work through checklist and spreadsheets, companies can reduce the cost associated with the onboarding process. While no companies want to make a bad hire, reducing the costs associated with good hires or bad hires improves the company's talent retention program overall
A tool that can help improve the IT onboarding process is automation software. Automation software can take over repetitive onboarding tasks such as provisioning new accounts, procuring new devices, configuring access to multiple SaaS applications, and assigning permissions to all those apps. By automating these tasks, companies can reduce errors and speed up the onboarding process, allowing new employees to become effective faster.
Montra is the innovator of "IT Management as a Service", and Montra's platform provides automation to help improve the IT onboarding process. With Montra, organizations can develop standard onboarding profiles that automate account and group creation while providing a centralized view of the location and assignment of all a company's devices. Montra has helped companies streamline their IT onboarding process from weeks to hours, reducing the time and effort required to get a new employee fully effective.
In conclusion, technology can help make the IT onboarding process more efficient and effective, reducing the time and effort required to set up new employees while improving their understanding and engagement with the company. By using tools such as Montra or other automation software, companies can streamline IT onboarding, reducing errors, and improving productivity while improving the satisfaction of new employees. Ultimately, improving the IT onboarding process can have significant benefits for the company, its employees, and the bottom line.